15th Anniversary Ride to East Gresford
I wasn't sure I would be going as Deb only came home from hospital after a hip replacement on the Monday prior. I had set everything up for her re food and comfort so she gave me permission to go. The old BSA had a new dynamo belt fitted after the last rides failure. SRM in England recommended grease in the timing chest to dissipate heat so a half cup was added. All the adjustments were made and she was ready.
The day dawned fine if a little overcast and cool but the forecast was fine. At 7am I met Bill on the Matchy for a brisk ride up to the Bomaderry meeting place. On arrival a small problem was pointed out to me about the old BSA. She had sprung a leak already. On examination it was found to be GREASE, not oil, all down the right side of the bike and BACK TYRE!! OK it'll leak down to a level and stop I hope. I'll just take it easy on right handers. She'll be right, half the corners are left!!
14 starters was a sign of a great weekend to follow. Bill, Keith, Phil, Danny, Campbell, Alan & Caz, Dave, new member Grant & Di, Tom, Theo, Paul (driving the support vehicle), and myself. Tom and Theo were only going as far as Thirlmere and we were to pick up Bear at Penrith. So off we set up through the Kangaroo Valley, Bowral and on to Thirlmere for breakfast. The old Greezer was humming along at 60mph quite nicely, slowing only for right handers. A quick look showed she was still leaking grease all over the back tyre. Breakfast consumed it was time to bid farewell to Tom and Theo and continue on through Hill Top, The Oaks, Silverdale and Wallacia. Our first fuel stop was Penrith just north of the GWHighway on Castlereagh Rd. Saturday morning shoppers made traffic a nightmare for a few K's. Bear rang to say he'd be right there. All fuelled up it was only a short hop to our lunch destination of Windsor. The group got a little scattered but we all got there eventually. The reason being Grant and Di on a pristine Honda VFR800 had a coming together with a car on the roundabout just after fuelling. Grants right ankle got sandwiched causing moderate pain. The bike suffered a broken foot peg hanger and a few mug marks. Grants ankle was soaked in ice water while lunch was consumed. The foot peg was repaired later at Singleton by Paul with a beer coaster and cable tie.
Off we go up the Putty. It's been about 4 years since I last travelled up that way, and 25 years before that. It hasn't got any better and the speed limits have been lowered. Probably good considering the state of my greasy rear tyre, yep still oozing. A quick regroup at the old half way house that burnt down years ago. The bends were fun but I could see I was holding up Campbell on the Triumph, sorry mate. Our last fuel stop was at Singleton. With a bit of confusion due to local road closures, we all got there. Bill was keeping track of fuel consumption and was surprised to see Campbell's 650 Trump was better than the old 500 Greaser. Even Alan's CB1100F got better mileage (in contrast to my CB1100F on the last trip 200Km/20Lt).
The last leg of the trip was a short blast up to East Gresford. Bill and a few others headed for the camp grounds and a dip in the creek. I headed to the pub for a beer or ten. We all arrived safe and sound with no break downs or major incidents. For those wishing to camp the publican offered the use of the pubs back yard, Paul, Campbell and Dave made use of this, the rest of us had rooms. Time for beer, banter and bullshit. Lots of the first two and a little of the later. The pub grub was great. The ride seemed to take it's toll on most and by 10.30 there was only three of us still there. Even the locals had left. We could see by the way everything was being turned off that the barmaid was eager to get home. Last drinks was called, Bill and I got night caps and Dave got a few. I fell into a blissful slumber before my head hit the pillow.
That evening the publican arranged the cook to come in early (7.30am) to make coffee. What he didn't say was it was in the café next door to the pub. We were all standing around for quite a while before it was discovered. Eye openers consumed, time to load up. Bugga the garage was locked! The cook rang the boss "spose those buggers want their bikes. I'll be up soon." Was the reply. With those delays it was a late getaway, about 8.45. Keith was to head in a different direction for a two week ride further up the coast The rest of us headed south. A quick fuel up at Singleton then off to Broke for breakfast. Nice greasy food to match my still greasy rear tyre and a splash of fuel to reach our next stop at Kulnura. The roads out there are motorcycle heaven. Not much traffic, lots of bends and no speed cameras.
After fuelling at Kulnura I made sure Bear knew which way to go (last time he headed back the way we came!!). Now for one of my favourite sections to Wisemans Ferry. The left handers were great, the right handers were still a bit iffy. Campbell was pushing me along at a nice speed (if your not a policeman) and the ferry came up way too soon. Phil, Campbell and myself caught the ferry as it was loading and got across before the others came into earshot. I was well into my beer by the time the rest arrived. I think I'll have another. Danny and Campbell were eager to get home so took off as the others got their refreshments.
On the road again, next stop Wallacia pub. Bear was to turn off at Penrith to visit family. On approaching Penrith the traffic was building. Bumper to bumper for a few miles as there was a footy match at Panthers ground. I got sick of it all and decided it's time to filter. Nearly had an altercation with a B Double but managed to shoulder him out of the way. The only thing that would cool the Greaser was speed so that's what she got all the way to Wallacia. The fuel cap was already back on the tank by the time Phil pulled in and I crossed the road to the pub to cool my overheated mind. It was 3.30pm and time was getting away so time to hit the road for the last 200K's
I had noticed the Greaser was living up to her other name, Bloody Sore Arse. I discovered ALL the NEW springs I had put in the seat only a few months earlier had broken. It was a matter of move forward for a few miles then back for a few more and lift when a bump was seen (ouch when it wasn't). Grant and Di headed east at the Illawarra Highway to go straight home, the rest of us headed down through Kangaroo Valley. Bill caught and passed me and as I was feeling a little more confident in the right side of the rear tyre the ride through the valley and over the mountain was quite spirited. Last fuel stop at Sth Nowra and head for home. The old girl did it again, didn't miss a beat the whole trip and the battery kept battering. She will now get a rest for a few weeks till the seat and grease are sorted.
It was a really great weekend with good friends, good roads and good weather. It was great to see some old bikes on club plates do the ride. Danny on the BSA Super rocket (didn't need the headlight this time), Phil on the Ducati, Campbell on the Triumph, Bill on the Matchless and my little BSA A7 (the oldest and smallest and out front all the way).
Cheers
[url=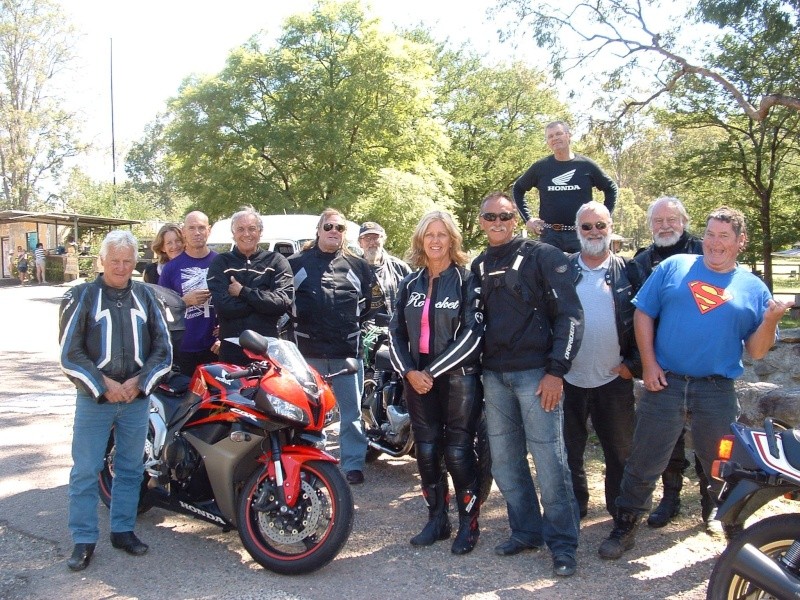 ]
twas a great ride from all angles ..i enjoyed being tail end charley as you could observe all the bikes in line in front of you and what a magnificent sight it was. i spoke to Grant yesterday and he fixed the bike with a $70 footpeg hanger from his favorite wreckers and all the scratches polished out. With the six "plated" bikes not one of us had to reach for our tool kits  ......... i used Keiths "leatherman" utility knife to lower my carb needles which was really tuning on the run, not something that went wrong




Mago

Admin




Posts

: 125


Join date

: 2013-04-09



Yep, more than half the bikes were oldies.
1951 BSA A7, 1959 BSA A10, 1964 Matchless, 1966 Triunph, 1974 Ducati, 1983 Honda.

---
Permissions in this forum:
You
cannot
reply to topics in this forum